From The Doctor Who Site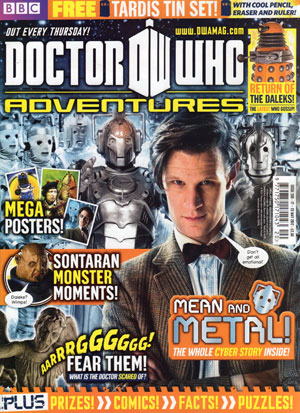 Right, I don't want anyone to panic.
That's The important thing to remember-no panicking.
It's just that a number of giant robot gorillas have been spotted heading for Earth.
If you can, lure them into a trap and give me a call.
I'll come armed with a huge metal banana and a net.
Just don't panic!
The Doctor
Also inside…
Tardis for sale
Series 7 snippets
My amazing Cyber life
Creature feature
Fear Them
The Doctor's Companions
Dummy run (comic)
Cybermat and much ore…
This weeks issue
Comes with a Tardis Stationary Set with Tardis Tin, Ruler, Eraser and Pencil.