From The Doctor Who Site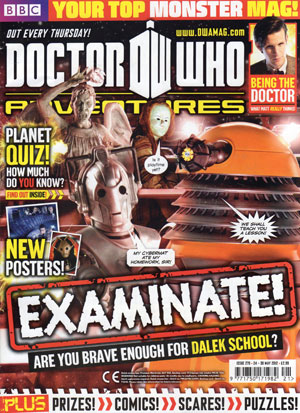 Have you seen the cool Dalek money box that comes with this issue?
How awesome is that?
I got confused and tried to slot 20 pence into a real Dalek Drone's head.
He didn't like it very much, but he did zoom off in the direction of the sweet shop with my money.
Get me a lollipop, Dalek!
The Doctor
Also inside…
Prepare for a scare
Dalek School
Being The Doctor
Intergalactic quiz
River fast facts
Freaky first encounters
Finders keepers (comic)
Doctor Who Danger and much more…
This weeks issue
comes with a Dalek Money Box…