From The Doctor Who Site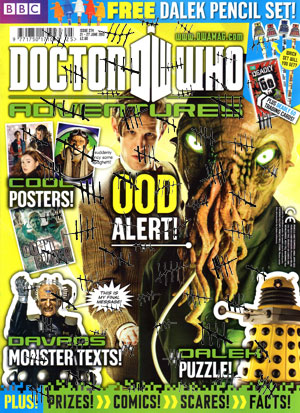 I've spent this week chatting to an underwater town of octopuses.
Well I say 'chatting'. I guess it was really 'escaping from'. Octopuses are fascinating and clever.
They have three hearts, blue blood and can regrow lost tentacles – sort of like regeneration. I thought they might be related to Time Lords.
They're not. At least, the ones on the sea planet of Flamph say they're not. But they did think I looked tasty. Yikes!
The Doctor
Also inside…
Under wraps
The good Ood guide
Find the Tardis
Doctor Wear
Companions
Creature feature
Le Tour De Death (comic)
Monster texts and much more…
This weeks issue
, priced £2.60, comes with Dalek toppers and Deadly 60 cards