Dinosaurs On A Spaceship
Written by: Chris Chibnall
Directed by: Saul Metzstein
Guest stars: Rupert Graves (Riddell), Mark Williams (Brian Williams) and David Bradley (Solomon)
"Enjoy your bounty."
There's a giant spacecraft plunging to Earth and all humanity is imperilled. But this is no ordinary space craft - for a start it's ancient. How ancient? The clue is in the cargo. After 65 and a half million years of extinction, the dinosaurs are coming back. All at once. In a spaceship!
In the race against time to save not just the human race but the last of the dinosaurs, the Doctor and the Ponds are forced to recruit a crack team: Queen Nefertiti, big-game hunter John Riddell - and Rory's dad!
I pitched this story to Chris Chibnall just as a title, and sat back, hoping he'd be impressed. He looked out the window for a bit and asked, "Could the Doctor ride a triceratops?"
Some people are never satisfied...
"Dinosaurs on a Spaceship" has now been aired in the UK, here is around-up of
the reactions and reviews from around the web, for those of you who
haven't seen it yet beware as this will all be considered SPOILERS.
What Did you think of it? Take the Poll here
Dinosaurs on a Spaceship had an overnight audience of 5.5 million viewers, a share of 26.2% of the total TV audience.

"Dinosaurs on a Spaceship" Reviews....
SFX has Doctor Who 7.02 "Dinosaurs On A Spaceship" Review
This was fun. Big fun. Slight and fluffy and silly, with the occasional creaky bit of plotting (how handy the Doctor accidentally brings Rory's dad along for the ride when the spaceship needs two pilots from the same gene pool) but enormously entertaining....
The Telegraph has Doctor Who, episode 2: Dinosaurs on a Spaceship, review
The pre-credits sequence for Dinosaurs on a Spaceship screamed "romp" and this, by and large, is just what the viewers got. And despite the self-explanatory title, there was some weirdness that wasn't even witnessed during the maddest excesses of late Seventies Who, when Douglas Adams was script editor....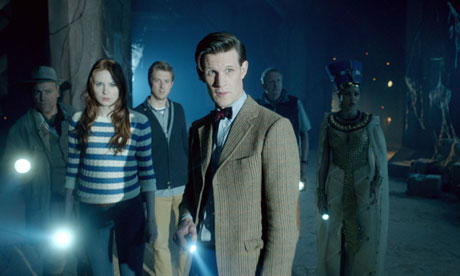 Guardian Unlimited has Doctor Who: Dinosaurs on a Spaceship – series 33, episode two
Well, that was fun, wasn't it? The only way this could have been more of a riot is if Samuel L Jackson had turned up. Fandom will probably hate Dinosaurs on a Spaceship. Yes, it was flimsy and, yes, it was pretty much a story built around a title. The producers have admitted as much. But second episodes are supposed to be fun – and you only have to think back to The Curse of the Black Spot to realise that this is the finest episode two from Doctor Who in some time....
HeroPress has Doctor Who: Dinosaurs On A Spaceship
The Doctor befriending a big game hunter? No, I don't buy it either, but this is the "anything goes" Moffat era, I suppose. This bizarre friendship - with Riddell (Rupert Graves) the hunter - can't even be equated to The Doctor's 'adoption' of savage huntress, Leela (Louise Jameson) back in the Fourth Doctor's time, as that was an "Eliza Doolittle" set-up where The Doctor was trying to "civilize" her and teach the ways of cultured societies....
Den of Geek has Doctor Who: Dinosaurs On A Spaceship review
Pretty good fun, that. Dinosaurs On A Spaceship might not have matched the standard set last week by Asylum Of The Daleks, but it still managed - for the most part - a good, 45 minute mini-blockbuster, as had been promised. It's also an episode that feels a little more targeted at the younger members of the audience in parts, albeit not to the exclusion of everyone else (although there's perhaps less for hardened Who fans), although its lighter tone was punctuated by one or two things we'll talk about shortly....
Sound On Sight has Doctor Who Ep. 7.02, "Dinosaurs on a Spaceship"
One of the great things about Doctor Who is its ability to morph genres week to week and season to season. What started as an educational children's show has explored, at various points, buddy cop-style comedy, gothic horror, and high drama. For series seven, the focus seems to be foremost on fun and adventure and this episode delivers both in spades....
IGN TV has Doctor Who: "Dinosaurs on a Spaceship" Review
Dinosaurs on a Spaceship kicked off with a furiously scatty, ADHD-riddled recruitment drive that saw the Doctor invite/kidnap Egyptian feminist Queen Nefertiti, Jumanji wannabe Riddell, Amy, Rory and Rory's DIY-loving Dad, Brian. And things only got weirder from there - with a tale of a futuristic flying Argos controlled by a sociopathic Pokemon-fan-gone-mental (he's gotta collect 'em all), who had taken control of a dinosaur-riddled ship on a collision course with Earth....
The Independent has Review of Doctor Who 'Dinosaurs on a Spaceship'
Episode 2 was always going to have a tough time following up on Asylum of the Daleks and although it is not on par with last week, it was still an enjoyable caper. Dinosaurs on a Spaceship was written by Torchwood's Chris Chibnall who has produced a light and witty script with an underlying layer of innuendo for the grown ups in the audience....
TARDIS Musings has KKLAK! (A Dinosaurs... Review)
Kklak! That's the noise Pterodons make, in case you're wondering - at least according to Chris Achilleos' original cover art for the Target novelisation of The Invasion of the Dinosaurs...
planetzogblog has Doctor Who 3.2: Dinosaurs on a Spaceship review
Amy's been picked up by the Doctor after another long absence, (as Pond Life shows he's an intermittent presence in their lives) but although the Ponds no longer live in the TARDIS they haven't forgotten their time with the Doctor and what he taught them....
Shadowlocked has Doctor Who reviews: Dinosaurs on a Spaceship
Strangely, given its high-concept title, 'Dinosaurs on a Spaceship' actually has a story, with the eponymous spaceship-situated dinosaurs being mostly incidental, if entertaining, additions to the episode.
Radio Times has Dinosaurs on a Spaceship review
As a long-termer who bitterly remembers from 1974 the cringe factor of crummy puppets featured in Invasion of the Dinosaurs (an otherwise well-scripted Jon Pertwee/Elisabeth Sladen serial), it's a delight and relief to see Doctor Who achieving them so brilliantly on screen....
Brian of Morbius has Review: 'Dinosaurs on a Spaceship'
Watching 'Dinosaurs on a Spaceship' was, I thought this morning, rather like ordering the mixed starters in a Chinese restaurant. Rather than offering us a coherent narrative, Chris 'mixed episodes of Torchwood' Chibnall offered up a platter of random elements which more or less fit together....
Bleeding Cool has Ten Thoughts About Doctor Who: Dinosaurs On A Spaceship
It was always a shame in The Girl In The Fireplace that Madame de Pompadour never actually got to go on an adventure in the TARDIS with the Doctor, so instead we get those moments replayed by Queen Nefertiti. I mean, that's close enough. And she too seems to have quite a thing for The Doctor....
"Dinosaurs on a Spaceship" Extras....
Impossible Podcasts has Doctor Who Commentary – 7.2 'Dinosaurs on a Spaceship'
Caleb, Sarah and Emma sink their critical teeth into Dinosaurs on a Spaceship in true velociraptor fashion! But will the friendly triceratops of entertainment survive the attacks of the bounty hunter of dodgy gender politics?
The Doctor Who Podcast has Episode 161 – review of Dinosaurs on a Spaceship
You've just watched some old dinosaurs on a spaceship, now listen to a few old dinosaurs in the Doctor Who Podcast Campervan talk about the latest episode from this short and sweet run of Doctor Who – Dinosaurs on a Spaceship! James and Leeson will again provide you with the first podcast review available of a Season 7 story. Enjoy. Just mind where you step. Dinosaurs don't only leave big footprints you know…
DWO WhoCast has Episode 260
Dinosaurs on a Spaceship! Vengeance on Varos!! Parents on the Sofa!!! It can only be the DWO WhoCast!
Tin Dog Podcast has TDP 263: Dinosaus on a Spaceship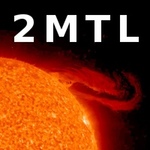 Two-minute Time Lord has 2MTL 279: "Dinosaurs on a Spaceship" Reviewed
"Now, despite all appearances, we Doctor Who fans have nothing against fun. Some of our favorite episodes are fun."
RedBubble has Dinosaurs on a Spaceship by NaomiBomb
RedBubble also has How do you start a Triceratops? by spud-17