Dinosaurs On A Spaceship
Written by: Chris Chibnall
"Dinosaurs on a Spaceship" has now been aired in the UK, here is around-up of
the reactions and reviews from around the web, for those of you who
haven't seen it yet beware as this will all be considered SPOILERS.
What Did you think of it? Take the Poll here
Dinosaurs on a Spaceship had an overnight audience of 5.5 million viewers, a share of 26.2% of the total TV audience.
Read Reviews and Extras - Part One and Part Two
"Dinosaurs on a Spaceship" Reviews....
The Daily P.O.P. has Doctor Who and Dinosaurs on a Spaceship
In ancient Egypt, the Doctor narrowly avoids copulation with Queen Nefertiti (whom he nicknames Neffie and takes along as a companion) thanks to a goofy ring tone. Cut to a space ship in the far future investigating a weird spacecraft with a collision course for Earth. Missiles are on course to destroy the mystery craft, giving the Doctor a narrow window of opportunity within which to act....
Shadowlocked has Doctor Who complete reviews: Dinosaurs on a spaceship
There are good things to be said about Dinosaurs On A Spaceship – it's the first of two this season from Chris Chibnall, and considering that I'd not been too enchanted with 42 and The Hungry Earth two-parter, his latest offering is an improvement. For one thing, it carries on the tradition set so far this season of implanting a big, bold concept in the minds of Who youngsters up and down the country. In my review on The Eleventh Hour, I grumbled about the previous lack of big ideas, but thankfully, this season is at least starting to go for broke in its wacky imagery, or what they call Unique Selling Points....
Mindless Ones has Doctor Who: Dinosaurs On A Spaceship
"I suspect this will be the hardest episode this series for me to write about. Normally there is something interesting to say about an episode, even if only about how it failed. And more importantly, normally I have something *different* to say from what other people are saying. But this time, my reaction can be summed up in the same sentence everyone else is using, It's not as bad as I expected, apart from the ending...."
tor.com has Who Little, Who Late: Gender Studies on a Spaceship?
The latest from the Who corner seems to have polarized fans in a strange way. To be sure, the episode "Dinosaurs on a Spaceship" was full of several disparate elements that (for me, at least) came together fine enough of you didn't squint too closely. It was fun and silly, and contained certain elements that I have missed that were more familiar on the show three or four seasons back. There was just one aspect of the episode that seemed to have itself woefully confused....
"Dinosaurs on a Spaceship" Extras....
Project Who 50: No. 227 by DoctorRy
io9 has This week's Doctor Who totally wasted its chance to make feathered dinosaurs cool
We're obviously big Doctor Who fans, and it's no secret that we've got a thing for dinosaurs. But you know what else we love? Pedantry. Over on Dinosaur Tracking, Smithsonian's Brian Switek serves up all three in a light-hearted critique of Saturday's episode of Doctor Who, which featured dinosaurs quite prominently. (And in space, no less)...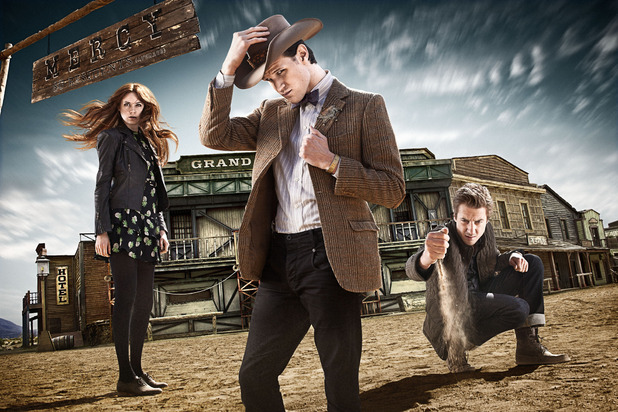 Digital Spy has 'Doctor Who' writer on 'A Town Called Mercy': 'The Doctor is volatile'
Toby Whithouse said: "The sequence where the Doctor is kind of forced to use a gun, giving the right sort of emotional journey to that took a lot of finessing, and that was the scene that, from draft to draft, would change the most regularly because the Doctor is a confirmed pacifist and so putting him in that situation is a wonderful opportunity in that it forces you to confront it, and provides you with enormous tension and drama which, as a writer, is what you want"...
Geeks of Doom has TARDISblend 53: Dinosaurs on a Spaceship
Doctor Who Series 7 continues as a mysterious unknown spaceship is heading to Earth in the 24th century, and ISA needs the help of the Doctor (Matt Smith). Enlisting the help of the Ponds (Karen Gillan and Arthur Darvill), Queen Nefertiti (Riann Steele), and 19th century English explorer John Riddell (Rupert Graves from Steven Moffat's Sherlock), the Doctor also manages to drag Rory Williams' father Brian (Mark Williams) along. ..
The Whostorian has Episode 46 - How to train your Triceratops
This week, after some news, Stylin' Steve dives right into his review and thoughts about Dinosaurs On A Spaceship. Then it's K9 vs. a Silurian in The Death Zone....
The 20mb Doctor Who Podcast has Episode 131
Adam, Rhys, Robert, Mary and Kirby look at correspondances, the top 30 Doctor Who podcasts and of course a thourough review of episode 2 of series 7 of Doctor Who....
The Cultdom Chronicles has Cultdom Commentary: Doctor Who – Dinosaurs on a Spaceship
Dave, Mike and Ian get teed-off when their balls go missing, but whilst digging for them in a sand trap are surprised to find this weeks Commentary: Doctor Who – Dinosaurs on a Spaceship Series 7 Episode 2...
"ASYLUM OF THE DALEKS" POLL RESULTS...
Fantastic 77.72% (143 votes)
Average 14.13% (26 votes)
Below Average 4.35% (8 votes)
Terrible 3.8% (7 votes)
Total Votes: 184
My thanks to everyone who voted