A Town Called Mercy
Written by: Toby Whithouse
Directed by: Saul Metzstein
Guest stars: Andrew Brooke (the Gunslinger), Ben Browder (Isaac) and Adrian Scarborough (Kahler Jex)
"Could everyone who's not an American drop their weapon!"
A tale of war, betrayal and vengeance, converging on one small town in the Old West - a town under siege. Just crossing the boundary line summons a not-quite-human killer from the desert heat haze.
The Doctor finds himself not just in the crossfire of an ancient conflict (a cyborg killer and an alien fugitive) but faced with a moral dilemma. Which side should he take? Who really is the victim here? This time, though, the Doctor doesn't seem to care. Has the Time Lord been alone too long? Have the long days of travelling between his adventures with the Ponds taken their toll? Because for one of the few times in his long life, the Doctor takes a gun...
Like all the best westerns, this is a tale of one man standing against impossible odds and his own personal demons. And like all the best westerns, it was shot in Spain. And like all the best dramas, it was written by Tony Whithouse.
"A Town Called Mercy" has now been aired in the UK, here is around-up of
the reactions and reviews from around the web, for those of you who
haven't seen it yet beware as this will all be considered SPOILERS.
What Did you think of it? Take the Poll here
A Town Called Mercy had an overnight audience of 6.6 million viewers, a share of 29.1% of the total TV audience.
Keep checking back as the page will be constantly updated throughout the week.

"A Town Called Mercy" Reviews....
The Telegraph has Doctor Who, episode 3: A Town Called Mercy, review
A Town Called Mercy was another Ronseal episode title this week, as the series returned to the American wild west for the first time since the 1966 William Hartnell story The Gunfighters. The story left virtually no cliché of the genre alone; visually, thematically or even musically. Even so, all this was effectively window-dressing for Toby Whithouse's powerful morality tale, where not everything was quite as it seemed and went on to explore issues of morality, ethics, conscience and justice in an absorbing fashion....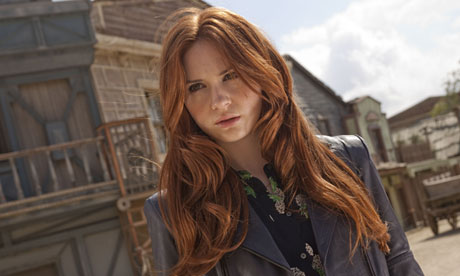 Guardian Unlimited has Doctor Who: A Town Called Mercy – series 33, episode three
Writer Toby Whithouse delivered a complex morality dilemma fizzing with sharp dialogue, Adrian Scarborough's Kahler-Jex brought some British eccentricity, and director Saul Metzstein did an effective job of recreating the look of classics of the genre. If anything, A Town Called Mercy was more effective as a western than as a Doctor Who episode....
HeroPress has Doctor Who: A Town Called Mercy
Whithouse keeps us guessing right up to the third act as to what direction the plot will go and this intelligence - so starkly absent from the two previous episodes - is what makes A Town Called Mercy stand out. He took a very straight forward plot, then extrapolated it in interesting directions, giving all the major players key roles that allowed them to stay true to their established characters - thus creating conflict. The simple key to superb writing. Everyone had a role to play and there was never any possibility of a person acting against type and shattering the illusion of the story - even when The Doctor was waving a six-shooter around, it felt right....
Outpost Skaro has A Town Called Mercy - Review
This is a small story with a huge back tale and one that doesn't really have a bad guy. Or, indeed, time to breathe. If any arc is emerging from this series it's that Amy and Rory are indeed on their way out, now being part time companions and, without them or another moral anchor, the Doctor can be somewhat dark in his decision making, as seen previously in The Waters of Mars. A slow curl towards the Valeyard, perhaps, he says in a fan boy squee....
Atomic Anxiety has Keep Out Signs Are Suggestions in A TOWN CALLED MERCY
I am certainly not saying that MERCY is a bad episode, but I do think it's the kind of episode that fails a bit here in the moment of its broadcast when it's THE episode of DOCTOR WHO and not a year or two later, when it's simply just another episode. I compare it to an episode like THE CURSE OF THE BLACK SPOT from Series 6 – at the time it was released, I was disappointed in it, but when I watched it a few weeks ago, I liked it better.
The Independant has Review of Doctor Who 'A town called Mercy'
We are now into week three and Amy, Rory and the Doctor have embarked on an adventure in the Wild West. However, this is not the first time that the Doctor has donned a Stetson and ventured out West. Back in the William Hartnell era the first incarnation of the Doctor stumbled into Tombstone, Arizona and was mistaken for the infamous real-life gunfighter and gambler Doc Holliday.
IGN TV has Doctor Who: "A Town Called Mercy" Review
When Amy, Rory and the Doctor appeared in the remote backwaters of the great American dream (well, prairie), the bloodletting game was already afoot. A cyborg cowboy was on the hunt for an alien Doctor, and was going to hold a whole Wild West town hostage until he found (and more importantly, killed) him.
Den of Geek has Doctor Who: A Town Called Mercy review
Appreciating we're going to sound a bit grumpy and miserable, the thing with A Town Called Mercy – a good, solid episode of Doctor Who – is the nagging feeling that there was something a bit better here. The Doctor doesn't get to go to the wild west often (heck, that's an understatement and a half), and never has he done so with such a lavish location shoot, and a script from Toby Whithouse (whose episode last series, The God Complex, was simply superb)....
WhatCulture! has Doctor Who Review – A Town Called Mercy
The Doctor's arrival in Mercy was especially pleasing and accurate. Whereas last week, Chris Chibnall's script doled out achingly familiar icons one-by-one as if they were astonishing innovations, this week Toby Whithouse dashes off Western clichés in a flurry, but with a knowing wink, and with efficiency bordering on haste. You want a Western? Okay good, here's the border town, swinging saloon doors, piano that stops playing as soon as strangers enter town, just like you asked for. Now let's do something more interesting....
SFX has Doctor Who 7.03 "A Town Called Mercy" REVIEW
It's certainly not the story you might have been expecting from the snatches featured in the series trailers. From those, you'd extrapolate an episode that's equal parts action and comedy. While the episode does deliver on both those fronts (particularly when it comes to comedy – Matt Smith's take on a gunslinger swagger as he walks into a saloon and orders "tea… but the strong stuff!" is a particular delight) it's a third element – ethical debate – which is, remarkably, to the fore....
TV.com has "A Town Called Mercy" Review: Duality and Tumbleweeds
Doctor Who has always been about the balance between its two realities—how much fun it is to be able to time travel with a clever, pacifist, fun-loving madman in a box; and the bleak actuality of being with a timeless, pacifist, ageless madman in a box. The best episodes address this head-on. This series (and some of last series) has shown our Doctor feeling the effects of the somewhat Sisyphean task of trying to keep the peace, especially when you're very old and have a temper. He's getting darker and darker....
Unreality Shout has Doctor Who: A Town Called Mercy - TV Review
Toby Whithouse's script is light-hearted to begin with, playfully having fun with the time travellers in a Western setting. So, we get The Doctor chewing manfully on a toothpick, then gracelessly getting it stuck in his jaws. We see him unceremoniously bundled out of town by the hostile locals and there are quips galore between the Time Lord and his companions. Like the one about Rory leaving his phone charger in Henry VIII's en suite....
Radio Times has Doctor Who: A Town Called Mercy review
The town looks like a set plonked in the middle of a desert. Mercy is literally a one-horse town; they could only afford the one nag. I don't believe the Doctor's moral stance, either his wavering or sudden certitude in dealing with Kahler-Jex. I don't feel anything when the marshal dies or when Jex eventually takes his own life....
This way up has The Unforgiving
An eloquent, thoughtful fusion of traditional Westerns with some moral quandaries, `A Town Called Mercy` works on a less energised level than the first two episodes. Toby Whithouse is no stranger to the very human dilemmas the Doctor faces here and as his own series Being Human shows, he isn't afraid to pause the action and wise cracking for something else. In that respect- and despite the Doctor talking to a horse- this is a more adult orientated episode than either of its predecessors....
Shadowlocked has Doctor Who reviews: A Town Called Mercy
As with Toby Whithouse's previous Doctor Who episode, 'The God Complex', 'A Town Called Mercy' deals with religious themes. However, while the former's arguably blasphemous approach/elements detracted slightly from what was otherwise a brilliant episode, Whithouse reins in his 'angry atheist' side for the latter, resulting in a compassionate and humbler exploration of themes of justice and redemption....
Digital Spy has 'A Town Called Mercy' review
We were promised a full-blooded Wild West adventure, but instead we begin with an impressive, action-packed sci-fi opener that immediately establishes "mysterious space cowboy assassin" the Gunslinger as an effective threat. It's a hell of a teaser and immediately more impressive than anything we saw last week.
TARDIS Musings has The Quality of Mercy (Review)
"I'll own up right from the outset, but I have never been a massive fan of the Western genre. I can sit through the better "spaghetti westerns" but the classic Hollywood films have always been a turn off. I was also conscious of the relative disappointment felt last year when Doctor Who tackled another well-known genre. The Doctor meets Pirates! How could you possibly go wrong with that combination...? I therefore approached this new episode with a certain amount of trepidation..."
planetzogblog has Doctor Who 3.3: A Town Called Mercy review
The Gunfighters of the Hartnell era didn't have the gorgeous overseas filming that this story does though. (There's something of Hartnell's performance in Matt's performance here though, the "Ah, no, yes … I see" while rubbing his hands.) Filming overseas is actually very rare, at least for the Classic era, with notable exceptions including City of Death (Paris as Paris), Planet of Fire (Lanzarote as Lazarote and an alien planet)....
Impossible Podcasts has Doctor Who Review – 7.3 'A Town Called Mercy'
'A Town Called Mercy' is the Back to the Future 3 of the series. Back to the Future was all nostalgic cool, goofy and fun that had something for everyone, like Dinosaurs. Back to the Future Part 2 took a darker tack, like Daleks. Back to the Future 3 was really, really Westerny. Like Mercy....
Bigger On The Inside has "Today I honour the victims first. His, the Master's, the Daleks'..."
'A Town Called Mercy', written by Toby Whithouse, effectively used the background of the Old West to produce an enjoyable companion piece to 'The God Complex.' Once again Whithouse explores the Doctor's methodology, especially in regard to the nature of mercy, to produce a solid piece of entertainment....
Tea with Morbius has A Town Called Mercy
This story was just boring. It was flat and predictable, especially the very Star Trekl Next Generation debate about whether to hand over an unrepentant mass murderer to save a town full of innocent people. The whole thing was horribly sentimentalised with Issac's death and the horrible Murray-Gold music....
Billie Doux has Doctor Who: A Town Called Mercy
Another family-friendly romp this week. If I'm honest, I was expecting Rory and Amy's final stories to focus more on them. Considering they only have two episodes left, they were badly underused tonight....
The Nerdist has Doctor Who Review: "A Town Called Mercy"
In the entire nearly-50 year history of the show, there has only been one other attempt at the Western, the First Doctor story "The Gunfighter," a serial that was mostly a comedy despite the OK Corral setting and quite a well-shot gunfight to go with it. It's difficult, I'd imagine, for a show as supremely British as Doctor Who to tackle something as supremely American (or Italian) as the Western. "A Town Called Mercy" has all the physical trappings that one would immediately point to as belonging to the Cowboy movie, but there was something strangely missing, something that WAS present in "Dinosaurs"...
io9 has Doctor Who and the Downside of Turning People into Weapons
Doctor Who's quirky time traveler has often been accused of transforming human beings into weapons — most notably, Davros made this claim in "Journey's End." But last night's episode, "A Town Called Mercy," features another alien doctor who's literally made people into weapons — and meanwhile, it makes a strong case that the Doctor's companions aren't weapons at all, but quite the reverse....
Cathode Ray Tube has A Town Called Mercy Review
Doctor Who and the western genre are not the easiest of companions. Donald Cotton's sorely underrated pastiche The Gunfighters, transmitted in April 1966 and featuring William Hartnell's first Doctor, was the last time that the series decided to take a swig of bourbon at the Last Chance Saloon.
Brian of Morbius has Review: 'A Town Called Mercy'
Picture the scene. It's October 1993, and we're in the middle of the first run of Red Dwarf VI. Already this is a show that's past its prime; series IV and V have been wondrous, and VI is intermittently hysterical, but the cracks are already beginning to show. It's still a few years before Chloe Annett springs forth from her parallel universe, bringing a wealth of "Does my bum look big in this?" angst with her, and in the meantime everyone is talking about an episode called 'Gunmen of the Apocalypse', in which the crew get chucked into a western....
The Doctor Who Zone has Incinerating Intruders for Three Centuries
The year was 1870, only five years after the Civil War had split the United States in a bloody four year conflict where relatives fought on both sides and ten years before electric street lamps appeared anywhere in the United States, let alone a little out of the way western town like Mercy. In 1870, towns like Mercy would have barely had flame torches lighting the streets and most likely the only light came from inside of whatever buildings lined the main street. Western towns in 1870 were pretty dark places after the sun went down....
"A Town Called Mercy" Extras....
A Town Called Mercy by CPD-91
IGN entertainment has Doctor Who: "A Town Called Mercy" Ep.3 Videocast
IGN's Who team heads to the Wild West as they discuss episode three of series seven....
dWhoFan9 has Doctor Who - Series Seven Unreleased Music - Arrival in Mercy and Death in Mercy
RedBubble has Susan the Horse Respect his life decisions!
RedBubble also has Mercy Town

The Doctor Who Podcast has Episode 162 – review of A Town Called Mercy
A Town Called Mercy? Lordy be, what a funny name! Tell me all about it. Don't be long now you here, I have chores to attend to....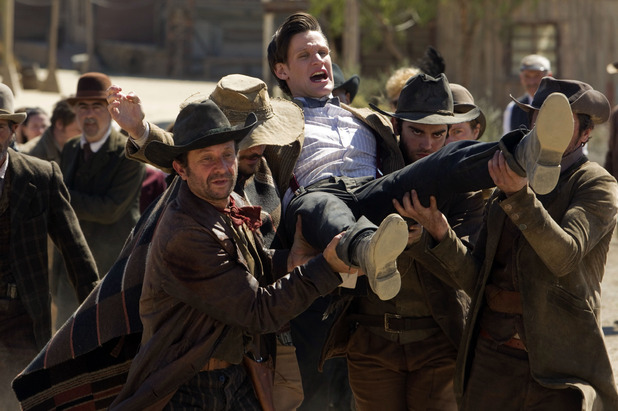 Impossible Podcasts has Doctor Who Commentary – 7.3 'A Town Called Mercy'
Caleb, Sarah and new contributor Nat Slow don their stetsons and ignore the keep out sign as they explore 'A Town Called Mercy'. Daleks, dinosaurs and now a cyborg gunslinger. As Doctor Who meets a western we discuss guns, tic-tac spaceships, moral complexities and The Doctor's mercy....
Blogtor Who has A Town Called Mercy audio commentary
Recorded by Cameron K McEwan and Alexander J McKinnon, the commentary can be enjoyed whilst watching the story - though, that's not essential.
Tin Dog Podcast has TDP 265: Smith Yr3.3 A Town Called Mercy
DWO WhoCast has Episode 261
Dave and Thomas look at A Town Called Mercy and wonder exactly where the Doctor is heading. Elizabeth and Michelle look at possible connections between the current storyline and Stephen King's Dark Tower series...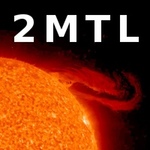 Two-minute Time Lord has 2MTL 280: "A Town Called Mercy" Reviewed
Well, pardners, there's no song 'n dance in "A Town Called Mercy," DOCTOR WHO's first Western since "The Gunfighters." It ain't a barrel of laughs for the Doctor this time, either. This is why y'all can't have long hiatuses in this TV show anymore; the hero tends to go rogue after them!
Tim's Take On has Episode 138: A Town Called Mercy review
My first thoughts review of Dr Who: A Town Called Mercy the show's first western since this 60s, written by Toby Whithouse better known for his vampire/werewolf/ghost drama Being Human....
Radio Free Skaro has Episode 328 – A Fistful of Kahlers
A completely different desolate location (namely, Almeria, Spain) served as the backdrop of Episode Three of Series 7a of Doctor Who, A Town Called Mercy, a sharp-looking homage to the many spaghetti Westerns that were filmed in its environs. The Three Who Rule were surprisingly all on the same page when it comes to how well writer Toby Whithouse, director Saul Metzstein, and the rest of the team brought this episode to being…
TARDIS Chronicles has Episode 017: A Town Called Mercy
Bill and Corey grab their six shooters and head out west as they review "A Town Called Mercy". See how this episode stacks up to what we've seen so far this season and if it should be given the marshal's badge or have measurements taken by the undertaker....
The Cultdom Chronicles has Cultdom Episode 168 – Dr Who 'A Town called Mercy' Review
The Cultdom Chronicles also has Cultdom Commentary: Doctor Who – A Town Called Mercy
Dave, Mike and Ian belly up to the bar at the local saloon when a lone gunman delivers this weeks Commentary: Doctor Who – A Town Called Mercy..
A Mad Man with a Box has A Town Called Mercy with Kyle Anderson
This episode was shot in the same locations as some of the classic spaghetti westerns and features a terminator-esque character called the Gunslinger what could possibly go wrong? I'm not sure, but Kyle and I spend a good time dissecting and discussing and very emotionally complex episode....
Blogging with Badger has Some Thoughts on "A Town Called Mercy"
Sci-fi and westerns are not, generally, things that mix well, yet just about every science fiction series seems to feel the need to try and mix them at least once. Doctor Who did it back in the day with "The Gunfighters", Star Trek did it, Star Trek: The Next Generation did it, Star Trek: Enterprise did it. Red Dwarf even did it, and of the shows listed on here, it's their effort that was the best, most watchable. At least until now....
Doctor Whocast has A Town Called Mercy
Bobby, Brian and Jacqui rebound from last weeks negativity, Brian has trouble using his words and we open up the floor on Da Tweetah. As always, sit back, relax and enjoy the only podcast that also travels in time!...
The 20mb Doctor Who Podcast has Episode 132
Adam, Kirby, Mary, Rhys and Robert review this week's new episode of Doctor Who.
Traveling the Vortex has Episode 90 – The Wild, Wild West
Howdy partners! In this week's episode we take a look at one of Glenn's favorite genres – the western, with two tales of gun slingin', ballad singin', rootin' tootin' Doctor Who stories.
Pharos Project has Episode 113: For a Few Kahlers More
Howdy Pardners. This week we are playing catch up. Due to no fault of our own (but entirely Chris') we weren't able to bring you our usual thoughtful musings last week. So, to make up for this terrible oversight, we now present our drunken rambles on the past two episodes of Who. Dinosaurs on a Spaceship and A Town Called Mercy...
InnerSPACE Raw has A Town Called Mercy
Ajay, Teddy (and a special guest!) discuss the latest Doctor Who episode, "A Town Called Mercy". Plus, can they guess where this season is going? Probably not, but they'll sure try! Think you've got a better theory, or noticed something they've missed?...
Mostly Harmless Cutaway with MHC 85 A Town Called Mercy
Join us as we dive into episode 3 of Series 7, A Town Called Mercy. Let the banter begin!
The Happiness Patrol has Episode 96: Sixshooters and Eggships
Whoa Nellie! What a great show 'A Town Called Mercy' was! We watched it and had a few different opinions about it, but overall; we loved it....
"A Town Called Mercy" Reaction Tweets...